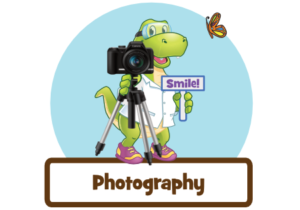 Photography- Grades 2-5
Want to be a better photographer?  We believe the best way to get started is with what you already have!  No need for expensive equipment, you can learn professional techniques and concepts with a simple camera phone!  Bring the camera you have and we will teach you how to improve your overall composition, understanding of exposure, light control and how to tell a story with your photos.  Fun assignments and lesson plans will keep your students engaged all session long.
STEAM ENRICHMENT WEEKLY CLASSES
We aim to SPARK the excitement of young people for ART, SCIENCE & TECHNOLOGY in a setting that allows them to explore, question, and experiment with fascinating facts, projects and activities. Through discovery based learning, students carry out experiments, engage in team activities, create artistic masterpieces, build and program robots, learn new technologies, and see how art & science works in the real world. Our programs are full STEAM ahead…Science, Technology, Engineering, Art, and Math and designed to inspire future innovators!