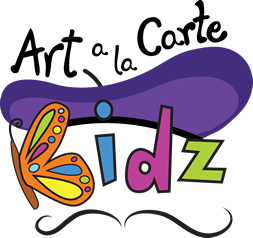 Art a la Carte Kidz is a drawing based art-enrichment program designed to enhance drawing skills and build each child's self confidence. Throughout the year, students learn the fundamentals of art through drawing, painting, sculpture, collage, and mixed media, while using artist quality media. Projects never repeat – each session is new and different! We provide engaging curriculum that develops skills and techniques, stretches the imagination, and explores art history, as well as, the art work of our very own local artists! Each and every project is "kid-tested" to ensure that all projects are fun and successful! With Art a la Carte Kidz, students have a safe and secure environment where they can experiment, problem solve, build skills, and produce fantastic art creations.
Parents new to our program often ask if a teacher drew their child's picture or if it was traced. We explain that every piece of work that children do is the ORIGINAL art of that child and that we never "touch" a child's work. We teach students art techniques, the language of art, and to "see" how images are constructed. We guide our budding artists to think creatively, teach them to slow down and focus, and to complete their work to the best of their ability. This approach is how we build success and self-confidence in every student.
Only for Kids? While the majority of our programs are for children, we do provide art programs for adults as well.
Locally owned our team has over 25+ years of art education, advanced degrees, teaching experience, curriculum development, running afterschool programs/camps, and working with 3-year olds to adults.  We know how to teach art and to encourage students to stretch out of their comfort zone to the depths of their creativity!